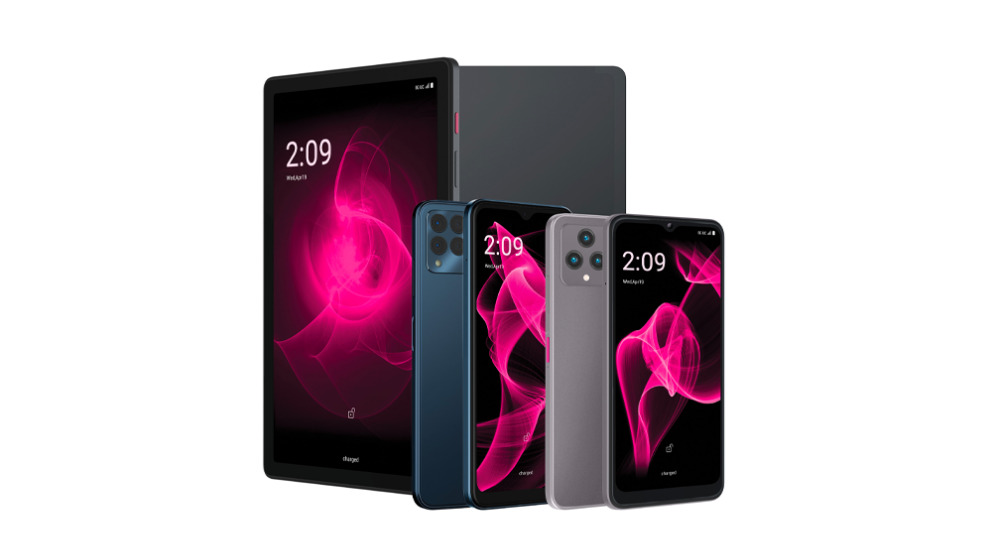 What you need to know
T-Mobile launches its latest devices in the Revvl lineup.
The company's first Revvl tablet features a 10.36″-inch FHD LCD and dual stereo speakers.
The Revvl 6x and 6x Pro feature HD+ displays and 50MP primary cameras.
T-Mobile just launched new smartphones as part of its Revvl lineup, and with them comes the company's first Revvl-branded Android tablet.
The Revvl Tab 5G follows the company's branded phones as a low-cost 5G option for consumers looking for a cheap Android tablet. The display is a 10.36-inch LCD with a 1200 x 2000 resolution, and while the refresh rate is unspecified, it's probably safe to assume we're getting a 60Hz panel. The tablet also has dual stereo speakers, a 7040mAh battery, and an 8MP camera on the front and back (coupled with a 2MP depth sensor at the rear).
Underneath is a MediaTek MTK5G-C chip, which, according to Anshel Sag, principal analyst at Moor Insights & Strategy, is quite similar to the Dimensiry 700. It's paired with 6GB of RAM and 128GB of expandable storage.
.@TMobile Expands REVVL Lineup with First‑Ever Tablet and New 5G SmartphonesPick up a FREE REVVL TAB 5G, REVVL 6x PRO 5G or REVVL 6x 5G when adding a qualifying line or FREE REVVL 6x 5G with ANY trade‑in on ALL planshttps://t.co/fZ79YhXgu6August 17, 2023
See more
As tablets go, it's not the most powerful around, so don't expect Galaxy Tab S9 Ultra levels of performance, but it should be good enough to play games, scroll through apps, and binge Netflix. It'll also be much cheaper than the Tab S9, retailing for just $199 when it hits stores on August 24.
Of course, T-Mobile also has two new Revvl smartphones. The Revvl 6x Pro is a half-step up from the Revvl 6 Pro I reviewed last year. It has the same 6.82-inch HD+ (1640 x 720) LCD, the same MediaTek Dimensity 700, and the same 6GB of RAM. The 50MP quad camera system is the same, and so is the 5000mAh battery underneath. It seems the only upgrade is the 256GB of internal storage, up from 128GB.
It also runs Android 13 out of the box, which is nice. T-Mobile told me that last year's model was expected to receive two OS upgrades, so hopefully, it will keep that same promise here.
Meanwhile, the non-Pro variant is a bit of a step-down, with a 6.51-inch LCD, a 4GB+128GB configuration, no ultrawide camera, and a 4500mAh battery.
Both the Revvl 6x and Revvl 6x Pro will also be available on August 24 and retail for $199 and $229, respectively. T-Mobile also has deals where you can snag a free Revvl phone or tablet when you add a line.