Evolving networking for the modern enterprise
Today's wide area networks need to support applications across cloud, SaaS, edge and data center environments so that companies can deploy a consistent networking architecture across all enterprise network domains. Moreover, they require low latency and agility throughout an often-global footprint. Companies employing a multicloud architecture also need cloud on-ramps to enable efficient movement of data to and from different providers.
Network Edge is a network functions virtualization (NFV) platform that supports a number of VNF devices from industry-leading vendors. Services like SD-WAN gateways, multicloud routers and distributed edge firewalls enable businesses to quickly deploy and scale networks to support their services and applications. And we're thrilled to be adding Arista WAN Routing System to that roster.
Network Edge enables customers to spin new virtual infrastructure up and down in minutes—giving you the speed and agility you need to respond to an ever-changing environment. Virtual devices also provide a predictable OPEX-based pricing model, so you're only paying for what you need, instead of having to invest significant CAPEX in new equipment every time your needs change. And Equinix offers a large global ecosystem of service providers. Network Edge is pre-integrated with Equinix Fabric® software-defined interconnection for on-demand private connection to your key ecosystem partners.
Now let's look at the exciting innovations Arista brings to the table.
How Arista is evolving the modern network
The Arista WAN Routing System is built using Arista EOS (Extensible Operating System) and CloudVision, Arista's platform for Network as a Service (NaaS). It combines enterprise-class routing platforms, carrier-neutral internet transit capabilities and the CloudVision Pathfinder Service.
Let's take a closer look at each of those pillars of the Arista WAN Routing System:
WAN routing platforms: The Arista 5000 series of WAN platforms and CloudEOS, powered by Arista EOS, support a host of routing use cases—including physical and virtual routing to meet a range of needs for aggregation and interconnection.
Cloud and carrier-neutral transit hubs: The transit hub is a new implementation of the traditional WAN core where carrier diversity and cloud connectivity are maximized. Arista and Equinix deliver a powerful combination of capabilities enabling a virtual transit hub that scales to your needs over Equinix Fabric and Cloud Transit.
Arista transit hub architecture with Equinix services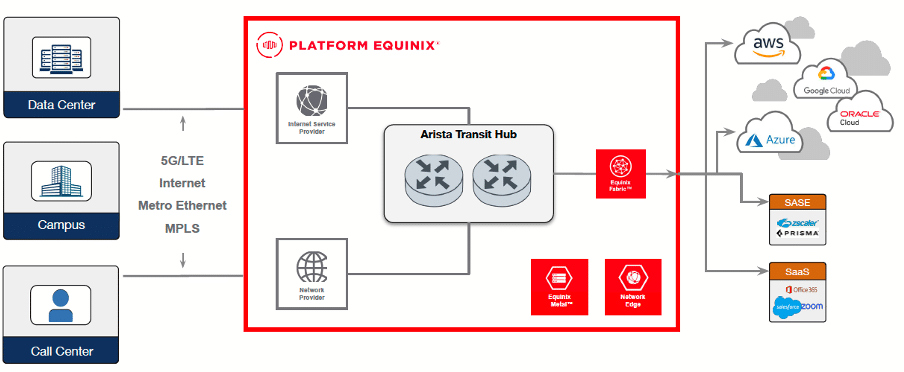 CloudVision Pathfinder Service: Pathfinder modernizes WAN management and provisioning, aligning the operating model with visualization and orchestration across all network transport domains. CloudVision Pathfinder helps customers visualize the entire network and enables automated traffic engineering and WAN self-healing since configurations are automatically generated, tested and deployed.
With the Arista WAN Routing System, customers can access a range of benefits:
A modernized WAN, built around carrier-neutral transit hubs with a substantial number of cloud on-ramps
An end-to-end network that can be deployed with a single OS and a Network as Code operating model
Zero-touch provisioning, deployment and management of the encrypted network fabric
Self-healing and network telemetry to multivariate networks
Making WAN easier for the enterprise
Ultimately, the Arista WAN Routing System is designed to make enterprise WAN easier for customers. As distributed and hybrid cloud infrastructures become the norm, enterprises will need a modernized network to ensure that applications across their cloud, SaaS, edge and data center environments can all connect quickly and easily. Arista provides consistent engineering and operations across all network domains so organizations can connect all the parts of their architecture.
Arista WAN Routing System is now available in the Equinix Marketplace—and we can't wait to see the benefits it delivers for our shared customers.
Learn more about modernizing your network virtually in the Network Edge data sheet.
And check out the Arista Enterprise WAN webpage to read more about Arista's WAN Routing System.