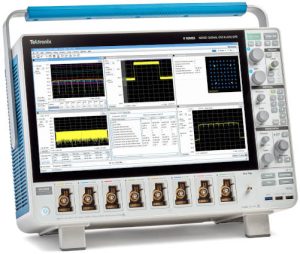 The package enables pass/fail testing of the 5G NR physical layer to qualify transmitter designs per the 5G NR standard established under the 3GPP release of 15/16 test specifications.
It includes signal quality measurements such as error vector magnitude (EVM), adjacent channel power (ACP), spectral emission mask (SEM) and power versus time (PVT).
"Tektronix developed the 5G NR analysis package using algorithms developed by NI," according to Tektronix. It enables engineers "to diagnose faulty signal interactions on a single oscilloscope that would otherwise require correlation between multiple instruments".
For high frequency systems, such as FR2, the 5G NR analysis option is also available on the up to 70GHz bandwidth DPO70000SX scope. A 5G NR option is also available for Tek's RSA500 and RSA5000 spectrum analysers. "The software operates identically on oscilloscopes and signal analysers," it said.